BLUE SHELL 12-10-2003 - &
battery park 2002
Electronic Attack Party mit Pattysplanet, wissing aka beats&bytes
als
MoogulatoR

| | | |
| --- | --- | --- |
| blue shell club, cologne | moogulatoR live | moogulatoR live at the blue shell, germany |
| | | |
| soundcheck with pattysplanet and beats&bytes | | battery park cologne nov.2002 |
Battery Park
cologne nov.2002
the live sessions ELECTRO INNUNKK
with
dr.walker
from
air liquide
, wulfmanson,
exafunk
, and
yapacc
from
voiceheads
/elektrasmus - with consequence (this time with elektro kartell t-shirt) ,
club-camouflage.com
, cologne 7.may 2003
more session: 14.5./ 21.5 / 4.6. / 11.6. etc..
more ppl playing:
andreas thein
(
propaganda
) and reinhard schmitz (former
keyboards
mag, now
wizoo
) on 11of June 2003.. images soon..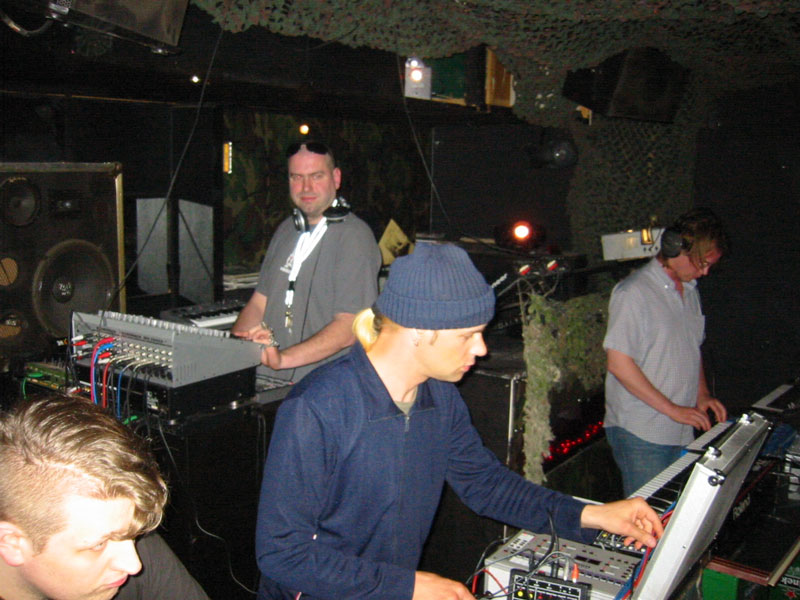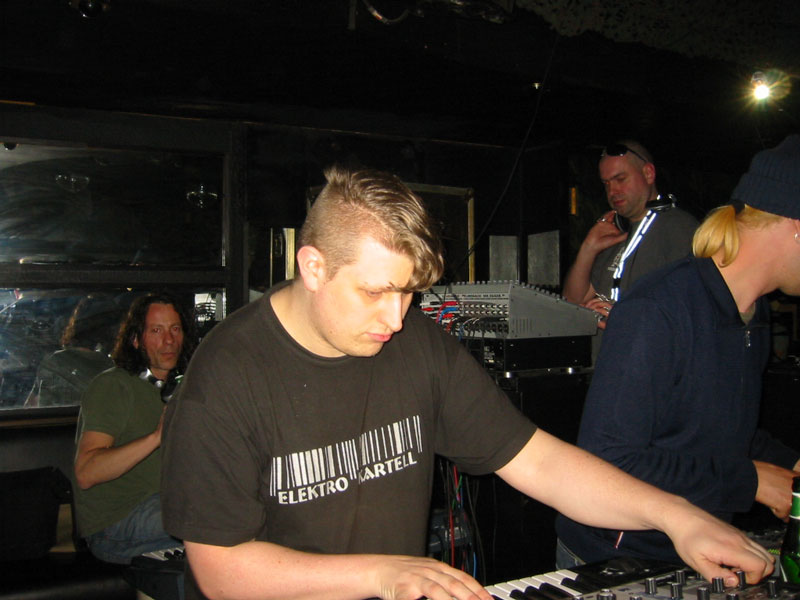 more pics of this live act wanted?
check the file management of electronic attack
2 more pictures here and here
sorry no pics of 14.5.

21.5.
the live sessions ELECTRO INNUNKK
with
dr.walker
from
air liquide
, alex, bolota S (
boombaum
) , exafunk, jitter, consequence (this time with smaller synthesizer) ,
club-camouflage.com
, cologne 21.may 2003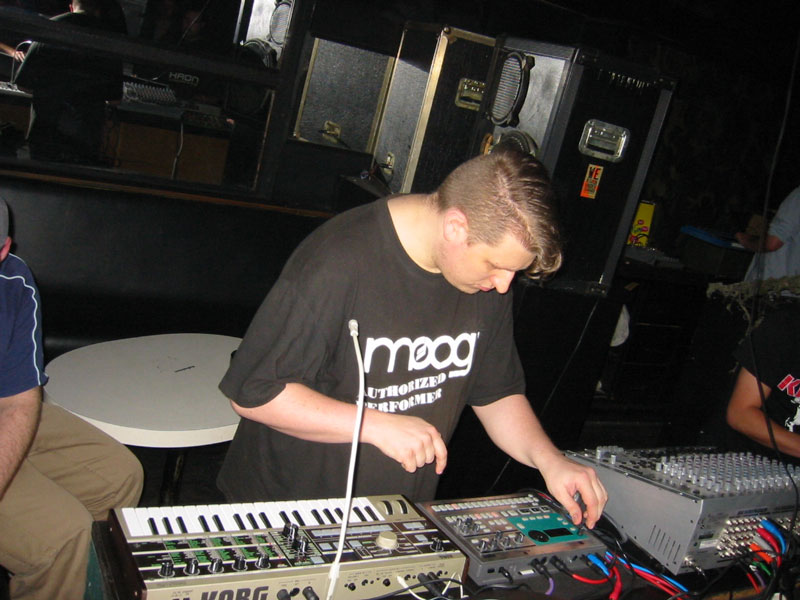 pics of 21.5.session here
thanks to WISSING@electronicattack ffor lots of pictures!!
ConseQuence @ Moog -
TV: HR3 television (germany) - 23:15 - 10.02.2003
the Elektro Kartell and ConseQuence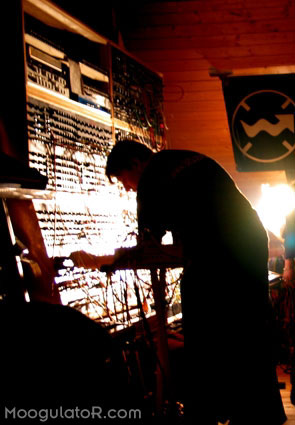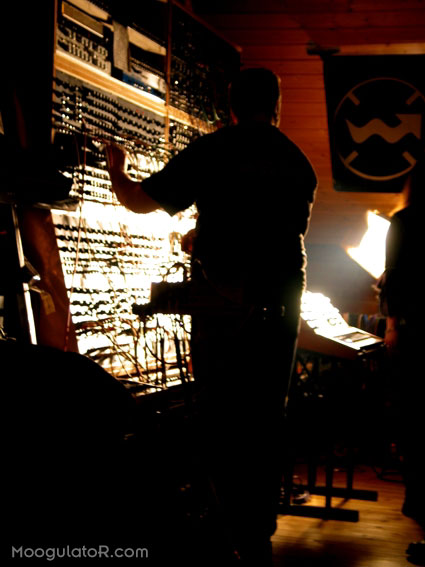 CONSEQUENCE liveact 14.dec.2002 @
club-camouflage - the new club in colgone, germany
by dr.walker of air liquide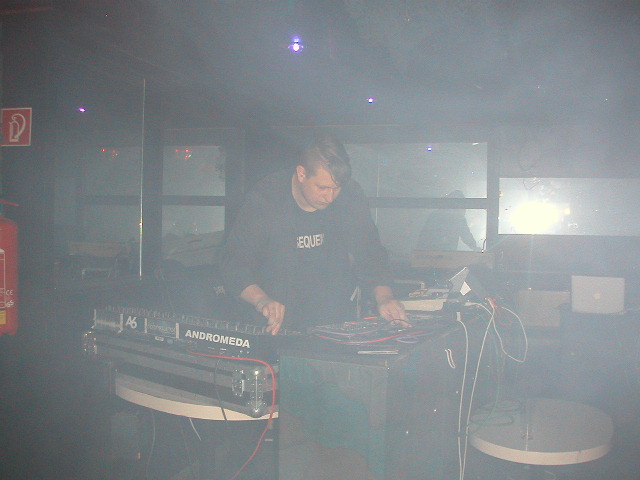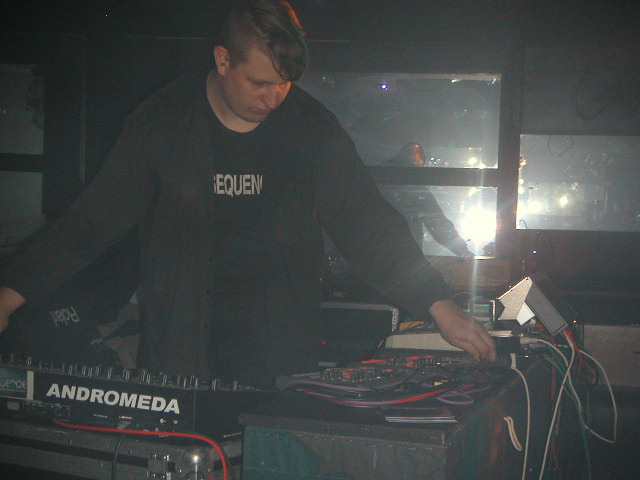 one thing about gear: no ,the mpc isn't consequence! this was the place of 3 acts playing! so the set is really the 2 green ones and the big one in the foreground and one marsian (north marsian to be correct!).
more gear talk and philosophy go to www.synthesizers.de

CONSEQUENCE liveact 22.06.2002
Kunsthalle (art hall) Köln (cologne germany) - ende-neu
with fm einheit from einstürzende neubauten, air liquide, michael rother (neu!, harmonia, early kraftwerk),schwachpunkt uva.
voiceheads, consequence, elektro atomu, wulfmanson and cartoonfish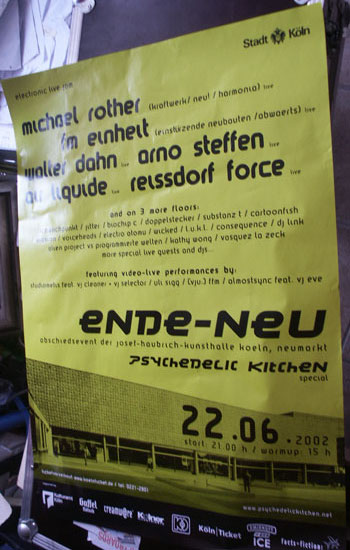 consequence about 23:50 ;)


consequence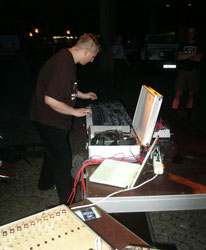 consequence / party flyer and poster



Video (AVI,3.4MB) here
(sounds a bit distorted and is simply not good quality.. but have a look!)
the circle jerkers: voiceheads, elektro atomu, wulf manson and cartoonfish
elektro atomu comes later (no pic yet)! no inside pics , yet had too much to do with my gear stuff after my gig..

voiceheads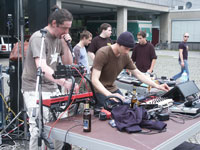 cartoonfish (rechts: fm einheit)


wulfmanson



back

pictures fof BATTERY PARK festival - elektro-kartell-label-night on 2.nov.2002 in blue shell..
with aliens project/prog.welten (electro), ConseQuence (!!!!)(industrial drum'n'bass / maschinensound), pattysplanet(vocaltronic/triphop), lower level(live drumming (!!) &minimal electro)!!