ConseQuence was generated in 1985.
1 x Humanoid Moogulator and some electronic devices
1 x der Moogulator

the next consequence releases will be done as MoogulatoR!
ConseQuencE / MoogulatoR


in progress & already live on stage: new werks on abstract electro with some dnb and clicks'n'cuts influences (believe me, genres are are hard-to-say thing!) .. but independently said ,there are some breakbeats, abtract intelligent and industrial to synthpop elements in the new stuff. also some handmade synth performance combined with very new bioelectrical organic rhythmic modulation mind movie.. consequence is for clubs and concerts!! and: art AND dance (well so far) AND brains AND psy AND soundscape tech etc..! AbstracDance all over.
very compuphonic!

Beside those sideprojects (80's/90's) like Volition and Desolated Victims, (sometimes with the same repertoire) ConseQuence was founded and all projects were merged together – thats the darkest past. ConseQuence is the future. get the maximum that is possible and always a little bit more out of the synthesizers. no factory presets (sounds) or loops / samples CDs are used. CosneQuence is pure electronic music. means: no emulation or something but new sounds and musiQ
and works and plays in the live- "iNNtelligent beatz" electronic project DaDa-iNN. there is a DVD and video available from moogulator/maschinensound visunautic by Jan Bitzer (cologne), audionautic by DaDa-iNN (dada-inn nilleAllstar,bOOmbaum and MoogulatoR). DaDa iNN concept is playing live electronics!!
ConseQuence is an active part within the Synthesizer - and Elektromusik - Netzworks. its about synthesis, synthesizers, electronic generation of music (any kind) and of course: the future music networks for live events and the music listeners... networking are being set up and connects lots of electrobrains ...
Live playing at special places is also the conseQuence: art exibition in a cave, sound scultures and also regular festivals and concerts.. creating atomospheres, making nervous rhythms, fascinating sounds moods and drum'n'breaks..

As an audio engineer, ConseQuence isn't only a studio - project.. ! live performances from drum and bass / new breakbeat in a very special way, synthpop/ebm/industrial with voices, but also future soundscapes and future electro musiQ.. philosophy, visions.. its about reality (or not?), information between the lines, SciFi, buddhism and lots of influences (media, the net).. experience a new developed dimension of sound. come in at own risk. from the former times of industrial and ebm / futurepop / synthpop to experimental industrial (in fact this was the first "style") to intelligent warp ambient electro to drum'n'bass and more.. there are lots of undiscovered dimensions..
consequence opens channels,that you might never known of (so far). the only required procedure is: open yourself to the music and let it come in. unfiltered. you will receive! thats a promise! well, maybe somewhat later, but.. you do.
its not only the music itself.. but you'll soon find out! its not about consequence know something, its about opening and receive on any "frequency". you already got the "technology" for that.
consequence is a module and "machine" of the network of future-electro / special elektronics / intelligent techno / new elektronic / IDM / warp etc.. - live-event-electronic "platform" and magazine: Maschinensound
and: please replace all consequence by moogulator, if you want to ;)
Listen! Experience! Receive.

proceed to "moogulator" Biography..
consequence live photo enlarged..
---
live images..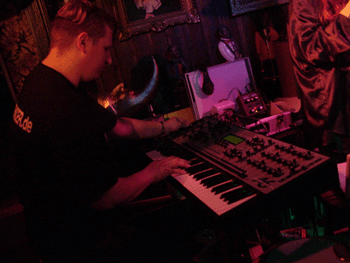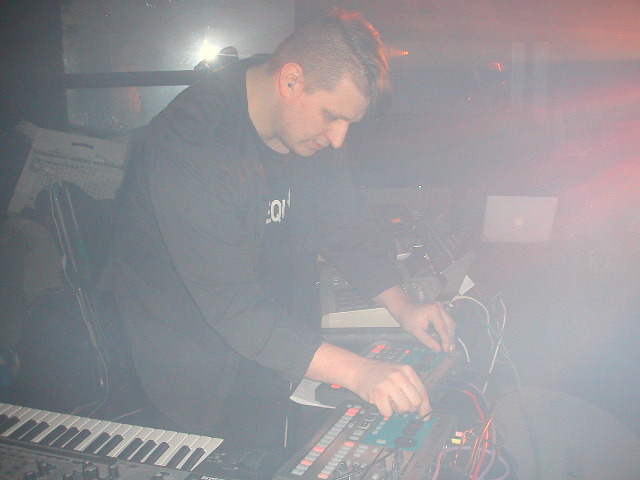 more pics/live pics?